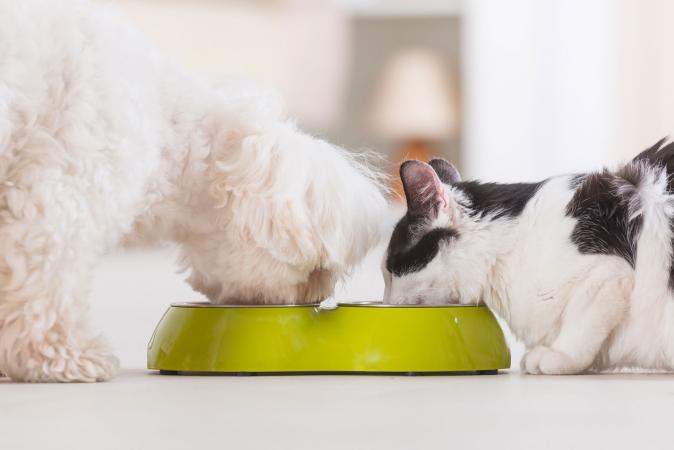 Organic cat food and dog food are easily found, but it takes a little more looking to find appropriate options for your other small animals like rabbits and birds. Luckily there are a few companies who cater to small animals that are USDA or otherwise certified.
Castor & Pollux Dog and Cat Foods
Castor & Pollux was declared a "stellar" pet food by Organic Authority in 2011 for both their dog and cat food Organix lines. The Organix range has several grain-free recipes and include dry and wet food options. Their products are certified organic by the USDA and Oregon Tilth. Some canine preparations are also certified non-GMO. Products can be purchased online through many portals, like Amazon or Wag.com, or through local stores.
Dog Foods
The Organix range received The Dogington Post award for Best Organic Dog Food in 2013.
Dry food - They have dry Organix recipes in packs such as Chicken and Brown Rice, Grain-free Chicken and Potato, or Grain-free Lamb and Peas. This includes recipes for adults, special preparations for puppies, and small and large breeds. Dry food is available in packs from about 5 to 25 pounds that cost around from $22 to $44 on Wag.com. Shipping is free for orders over $49.
Wet food - Recipes often include gravy, like Turkey Dinner with Fresh Carrots and Sweet Potatoes in Gravy, Shredded Chicken, or Grain-free Turkey and Vegetable. The wet food Organix cans are 12.7 ounces large and cost around $30 to $50 for packs of 12 or so at Wag.com.
Treats - Organix dog cookies are wheat-free and come in various flavors like peanut butter, cheddar cheese or chicken and are suitable for all breeds. Packs of 12 ounces cost around $10 at Wag.com.
Cat Foods
Castor & Pollux have been mentioned as one of the top ten innovators of feline food by Pet Food Industry in 2013 (pg. 19, 20). The cat food offered can all be purchased through Chewy.com which has an autoship program for repeat customers. Costs reflect Chewy.com's pricing.
Dry food - Pick up the kitten or senior recipe or choose between the Chicken & Brown Rice or Chicken & Potato recipes. Four to 12 pound bags cost between $15 and $40, depending on the bag size and recipe selected.
Wet food - Nine canned food recipes have chicken and turkey as their main ingredients and include flavors like Organic Turkey and Spinach, and Chicken and Chicken Liver Paté. Cans of 5.5 ounces in 24-packs cost $30 to $40.
Treats - Chicken flavored treats come in a 2-ounce bag and cost just under $5.
Harrison's Bird Food
Harrison's Bird Food supplies certified organic feed for birds and most of their products are also certified as non-GMO. Veterinary Practice News note that formulated bird food is a recent development that started about 20 years ago, and vets recommend them. The blog Budgies Are Awesome recommends Harrison Bird Food use, noting the improved condition of budgies after switching to Harrison's.
Products can be ordered directly online by visiting their website or through Amazon. Most products come in a variety of sizes from around one pound to 25 pounds starting around $10 upwards to $150. Three to five pound bags run in the $25 to $30 range. Treats are about $10 per pound.
Ingredients
They have an excellent range of formula food for birds of many species at different ages or with special needs. The formulas are made of ten different grains and pulses and fortified with seafood, algae and vitamins. Detailed information on feeding for different species is provided on the product page.
Products labeled coarse are for medium to large birds including parrots (Pionus, Eclectus, African Grey, and Cockatoo), Toucans, and Hornbills. Fine products are "for conures, lories, quakers, cockatiels, lovebirds, doves and other small to medium parrots." Superfine formulas are for birds like canaries and finches as well as budgies (parakeets) and other small parrots.
Young Birds and Special Needs Foods
High Potency Coarse, High Potency Fine, High Potency Superfine, and High Potency Mash are for conversion for the first six months when pets are young, and for birds that have special needs and that are weaning and breeding. Power Treats are for weaning and aging birds. Juvenile Hand Feeding Formula is for sick and young birds.
Adult Bird Food
This category of food is for adult birds with no special needs for regular maintenance. Depending on the size of bird, the products are Adult Lifetime Coarse, Adult Lifetime Fine, Adult Lifetime Superfine, and Adult Lifetime Mash.
Oxbow Animal Health BeneTerra Line
Oxbow Animal Health produces organic food for small animals like rabbits, guinea pigs, gerbils, and chinchillas. In 2009, their BeneTerra line earned the second place prize at the SuperZoo show for best new small animal products and the Pet Business 2009 Industry Recognition Award for small animal food according to Petcha.com. The BeneTerra products are certified organic by the USDA.
Oxbow products can be ordered on Amazon, through other online retailers, or a store nearby.
Organic Guinea Pig
Organic Guinea Pig is needed for pets up to six months old; this preparation though is not enough to meet the needs of "growing, gestating or lactating" animals, so consult a vet for more advice. A three pound bag can be purchased on Chewy for around $11, with shipping free for orders above $49, and received positive reviews on the website.
Organic Rabbit
Organic Guinea Pig and Organic Rabbit pellets share many main ingredients. They are made mainly of organic grass hay, along with canola and sunflower meal, barley, flax seeds, dandelion leaves, cranberry and blueberry. Supplements include vitamins and essential nutrients. However, the ingredients are present in the combination that is "specially formulated to mirror the nutrition a rabbit would find in its natural environment."
Pick up a four pound bag from Doctors Foster and Smith for about $11.
Organic Barley Biscuits
Organic barley biscuits is baked with barley flour, alfalfa meal, molasses, carrots, apples, oat flakes, and canola oil. Treats are appropriate for a variety of small animals. Buy it at Doctors Foster and Smith in a 2.5-ounce bag for less than $5.
Organic Meadow Hay
Organic meadow hay is 100% organic and can be used for all small herbivores like guinea pigs, rabbits, gerbils, and chinchillas. It's only about $5 for just under a pound at Doctors Foster and Smith.
AquaOrganic Fish Feed
AquaOrganic is a USDA-certified formula food for growing edible fish in aquaponics. These are also suitable for large ornamental omnivorous outdoor pond fish like koi and tilapia. It's listed as a "most useful" product for aquaponic fish by the website Home Aquaponics System.
The feed is made of organic rice bran, canola meal, whole corn, alfafa meal, linseed meal, vegetables, oil, spices and herbs, besides being fortified by vitamins and essential elements. It can be purchased directly from the firm or Amazon in quantities from one to 30 pounds and costs around $7 to $100.
Pet Food Regulations
The Association of American Feed Control Officials (AAFCO) states that "pet food must be formulated for the intended species," and "supply a complete and balanced diet." The labeling should provide accurate information about the animal it is meant for, ingredients, proportions, and suggestions for feeding portions. The right food should be suitable for the age and condition of the animal. However, "AAFCO does not regulate, test, approve or certify pet food ".
To be declared organic, pet food must meet NOP regulations, and carry the USDA seal, and contain 95% of organic ingredients, according to the AAFCO.
Consult the Vet
It is best to consult the vet to determine the right amounts of food and frequency for all animals as this depends on age and the condition of the pet. Owners should also acquaint themselves with the raw food needs (or restrictions) of their pets to provide them a complete and healthy diet. For example, besides pellets, rabbits need fresh food - a constant supply of hay, fresh grass to graze, a handful of greens or weeds daily along with the occasional carrot or apple according to Royal Society for the Prevention of Cruelty to Animals, UK (RSPCA). You'll have feeding success when you combine your vet's recommendations and good food choices.