Honey is an increasingly popular sweetener. Many of the people who choose honey as a sweetener specifically want to find organic honey. The situation involving organic honey is somewhat controversial, but customers should at least be able to find honey that is relatively natural and free from pesticides.
Issues Surrounding Organic Honey Products
Creating honey that is entirely free from agrochemicals is inherently difficult due to the way in which honey is produced. Alex Wild at Scientific American indicates that to produce a sizeable amount of honey, honey bees need to travel across great distances. Wild indicates that bees must make contact with around one million flowers to generate what they need to create a single jar of honey. It's simply difficult for beekeepers to confirm that their bees aren't coming into contact with agrochemicals during any of their extensive travels according to Wild.
However, customers that purchase honey that was produced on organic farms are still going to be taking in fewer agrochemicals than customers that aren't very discriminating when they purchase honey. Chemicals are everywhere in the modern world. It is exceedingly difficult to avoid them entirely. Health-conscious individuals usually have to be content with reducing their consumption of chemicals.
Finding Certified Organic Honey
All customers that are looking for certified organic honey should know that the United States Department of Agriculture (USDA) is still working on practice standards for certified organic honey. Individual bee farms may meet the standards for organic farms, but the nature of honey production means that it may require more specific standards than other types of agricultural products.
Seeking out honey that carries the Certified Organic label is still useful, but honey's unique situation should still be noted. Before buying products from a given farm, customers should research their farming practices to get a sense of their commitment to producing products that are as close to organic as possible.
Getting Organic Honey Online
Different types of organic and raw honey are available online directly.
Y.S. Eco Bee Farms Honey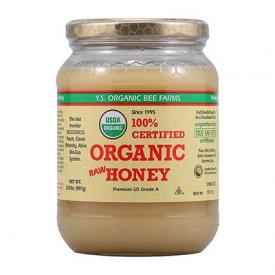 Y.S. Eco Bee Farms (YSEBF) has produced some very popular products. Y.S. Eco Bee Farms 100% Certified Raw Organic Honey has received customer praise for the flavor of this honey. Environmentally-conscious and health-conscious consumers have also reported that it met their standards. This honey has not been pasteurized, heated, or filtered in any way.
YSEBF does not use chemicals when beekeeping, and the farms aren't located near areas that tend to be riddled with chemicals, such as commercial or industrial areas. It's available in a pack of two from Amazon for around $35 plus shipping.
Dutch Gold Honey
Dutch Gold Honey (DGH) is another great choice for people that are looking for 100 percent organic honey. The DGH company received certification from Pennsylvania Certified Organic. The honey that people get through DGH was produced in areas that received organic certification from an organization approved by the National Organic Program, and DGH receives annual organic inspections. DGH also takes steps to prevent non-organic products from contaminating organic products since their organic honey has its own storage area. Customers can order organic honey through the DGH website, where the prices start at $6.25.
Johnston Honey
The Johnston Honey (JH) company can also offer customers 100 percent organically farmed honey. They keep chemicals and pesticides out of the range of their honey bees, and JH is careful to take the average honey bee range into account. For the past 10 years, their honey has been honored with organic certification by both the USDA and the Global Organic Alliance, Inc. JH organic honey products are somewhat more expensive than some options at $12 for a 12-ounce jar, but ordering it online through the JH website should be convenient for most customers.
Finding Organic Honey Locally
There's a great deal of interest in eating locally today, which should make the searching process for local farmers more convenient. LocalHarvest is a good source for people that are interested in finding the right farms and farmers markets in their areas. LocalHarvest may also include advertisements for products that people can order online, including raw organic honey.
Other Ways to Find Sustainable or Organic Honey
People who are interested in organic honey may have more options if they are willing to make their searches international. Ethical Consumer (EC) is an alternative consumer organization based in the United Kingdom. The EC's guide on buying honey includes honey company profiles and judges them based on their environmental and social standards; they also note whether offerings include organic options.
Fair Trade USA can also help guide consumers towards making informed decisions about purchasing socially responsible honey, although you'll have to check recommended ones yourself to see if they are certified organic. Many people who produce and buy honey are committed to sustainability in more ways than one.
Certified Organic Honey and Raw Organic Honey
Many people specifically consume raw organic honey for the nutritional benefits, in addition to its unique flavor. The Permaculture Research Institute indicates that when honey is processed, it may lose some of its phytonutrients. The people that are switching to organic honey for the sake of enjoying honey's unique health benefits may want to switch to raw honey.
The Honey Traveler (HT) indicates that there is certainly some overlap between raw and organic honey. If raw honey has sufficiently low quantities of chemical additives, it is considered organic honey, according to the HT. The HT also specifically recommends raw honey for its taste and scent.
The Availability of Organic Honey
The demand for organic honey is high. Beekeepers know that they can increase their profits by focusing on organic honey. The USDA is currently in the process of refining their standards concerning organic honey, which should make things easier for consumers in the future.