Gifts Ideas for Organic Gardeners
Gift Ideas for Organic Gardeners
If you're searching for great gift ideas for the organic gardener in your life, you'll want to look for items that make gardening easier while also being free from chemical pesticides. Gifts that offer offer advice on natural gardening methods are perfect too! Many companies offer unique gifts that are perfect for the eco-conscious gardener.
Organic Seed Sampler
Buy Now"
Seed samplers make great gifts for the organic gardener who loves to experiment. This versatile sampler pack includes alfalfa, mung bean, broccoli, green lentil, clover, buckwheat, radish, bean salad, three part salad mix, and five part salad mix. It's certified organic and makes almost 30 pounds of sprouts.
Click on "buy now" to learn about how to purchase any of the products shown.
Wheatgrass Growing Kit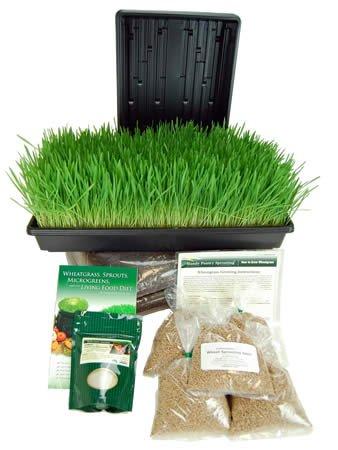 Buy Now"
Wheatgrass growing kits are excellent gifts for the organic gardener who wants to save money. For just pennies per day, gardeners can enjoy all the health benefits of certified organic wheatgrass.
This kit includes five pounds of organic wheatgrass seed, compost, fertilizer, and a helpful book.
Organic Gardening
Buy Now"
Give the gift that will keep giving throughout the year. A magazine subscription will help keep the organic gardener in your life inspired all year long.
Encyclopedia of Gardening
Buy Now"
With over 50 years in print, Rodale's Encyclopedia of Organic Gardening is a valuable resource for anyone interested in growing organic produce, herbs, trees, shrubs, perennials, annuals, and lawns.
Organic Gardener's Handbook
Buy Now"
Natural insect and disease control represents a challenge for many organic gardeners. This book is a helpful way to learn how to grow a beautiful garden without the use of harmful chemicals.
Gardener's Seat
Buy Now"
Gardening can be hard on the knees, so a good bench for sitting and kneeling is sure to be appreciated by the organic gardener in your life.
8-in-1 Combo Tool
Buy Now"
As the "Swiss army knife" of garden tools, the Rumford Gardener's 8-in-1 combo tool is the perfect gift for the organic gardener. This versatile gadget includes a weeder, saw blade, serrated knife, regular knife, twine cutter, pruner/scissor, plus slot and Phillips screwdrivers.
Organic Garden Lovers Gift Basket
Buy Now"
Any organic gardener will appreciate this thoughtful gardener's tote filled with gardening tools, organic snacks, and rosemary mint hand wash.
Organic Gardening Hat
Buy Now"
Organic gardeners will love this wide-brim hat that is made from organic hemp and cotton and offers protection from the sun's damaging rays. The hat is one size fits most.
Organic Herb Garden
Buy Now"
This set of 12 organic herb seeds makes a nice gift for any gardener that loves to grow and use culinary herbs. Each set comes in a gift box and includes a wide variety of popular seeds such as basil, dill, chives, and parsley.
For more gift ideas for friends and family committed to an organic lifestyle, check out the Organic Bath Gift Sets and Top Organic Toys slideshows.