Organic Lover Gift Basket Ideas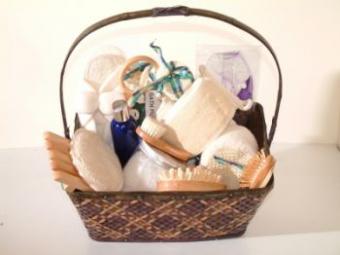 People living a healthy lifestyle love receiving gift baskets chock full of organic items. Although organic food baskets are great for gift giving, there are many other options available; many companies offer wonderful choices for any occasion and for anyone on your gift list. Following are some of those companies and a sampling of the baskets they feature.
Unexpected Goodies
Some companies offer unexpected combinations in their baskets, or even make the basket itself out-of-the-ordinary.
Our Green House
Our Green House offers a great variety of organic, fair trade, and eco-friendly products. You can purchase an organic gift basket for almost any occasion and shipping is free for orders over $150.
Instant Spa Natural Gift: Cleverly packaged in a one gallon paint can, this set comes with citrus body scrub and soap, pink grapefruit body oil, body mist and bath accessory. Just add water! This gift is also available in lavender. Cost: $54.00.
Coffee and Tea Baskets
Choose one of these options for the coffee lover or tea aficionado in your life.
Zhi Tea
Zhi Tea offers 100% organic and free trade tea in unique and flavorful blends. They offer gorgeous gift baskets featuring some of their most popular tea blends or you can customize a basket.
Tea Lover's Gift Box: This uniquely designed, customer five-star rated gift basket features three tea samplers of your choice and a tea maker/infuser. A larger version of this basket is also available and includes two tea tins, two tea samplers, a tea timer, and a teaspoon. Cost for small basket: $35.00; cost for large basket: $60.00
Tea Sampler Pack Gift Basket: Not sure what to get? This sampler pack comes in several different options including best seller, oolong, black, green, white or herbal. Each pack has six different kinds of tea perfect for discovering a new beloved flavor. Cost: Varies, depending on your choice of products.
Grounds for Change
Grounds for Change is a revolutionary coffee company that offers only organic, fair trade, shade grown, carbon-free coffee. If you need a gift for a coffee lover, Grounds for Change has several pre-selected gift box options to choose from or you may customize your own.
Compadre Gift Box: This gift features three bags of coffee, two Clear Creek Pottery mugs (made in the USA), and a fair trade copper and brass coffee scoop. Cost: $59.95
Advocate Gift Box: Perfect for the person who enjoys both coffee and tea, this gift box includes three bags of coffee, two boxes of fair trade organic tea, one box of fair trade organic hot chocolate mix, and a fair trade copper and brass coffee scoop. Cost: $52.95
Baskets for Babies
A basket filled with organic goodies for a baby will be a welcome gift for new parents.
Burt's Bees Baby
From the makers of the popular Burt's Bees beauty and personal care line comes wonderful products for babies. Burt's Bees Baby provides great gift baskets at reasonable prices. All products are 100% organic and some may be personalized for a boy or girl.
Bee Essentials Take Me Home Honeybee Basket: This basket features a 100% organic cotton kimono top and pant set, hat, blanket, body suit, bib, and burp cloth available in pink or blue. The beautifully lined basket also includes Burt's Baby Bee shampoo and wash and body lotion. Cost: $50.00
10 Piece Welcome Home Gift Basket: 100% organic clothing and Burt's Baby Bee shampoo and wash and body lotion fills this gift basket to help provide baby with all she needs her first few days at home. Cost: $50.00
Stork Baby Gift Baskets
This company offers a line of organic baby gift baskets filled with organic clothing, plush toys, and personal care products.
Luxury Organic Baby Basket: A baby blanket, bib, onesie, and hat made of 100% organic cotton are all included in this beautiful gift basket. The basket also includes a sweet plush elephant and bear made of organic cotton. Cost: $149.95
Keep Me All Natural Basket: This basket features full size Burt's Bees baby products, organic clothing, and an eco-friendly plush bear. The natural wicker basket arrives beautifully gift wrapped embellished with a ribbon in the color of your choice. Cost: $169.95
Gifts for Pets
If you're worried that you won't be able to find the perfect organic basket for a four-legged friend, fear not. There are plenty of options available.
Organic Pet Boutique
Organic Pet Boutique is a Fido-friendly company offering organic gift baskets for anyone who loves to indulge their favorite four-legged friends.
Organic Toy Basket: Featuring an organic plush monkey and natural toys, this gift is perfect for the active dog. Cost: $54.99
Ultimate Organic Pet Starter Basket: Perfect for anyone with a new puppy, this basket contains organic treats, bones, plush toys, grass greens, and all-natural oatmeal shampoo. Available for boy or girl dogs. Cost: $94.99
The Field Deluxe Purrfect Gift Kit: Featuring natural hemp cat toys, catnip spray, and a bottle cork ball in a zippered bag, cat owners will love receiving this gift. Cost: $19.99
A Thoughtful Gift
No matter what your gift giving needs, chances are there's an organic gift basket that's a perfect fit. By using one of the basket suggestions above or creating your own basket of organic goodies, you're sure to please anyone on your gift list.