Organic Freeze Dried Foods
Organic freeze dried foods are convenient for hiking or camping excursions. They're also a great staple to include in emergency food supplies. These nutritious foods have a long shelf life and are easily stored for whatever purpose you are using them.
Freeze Dried Foods Available
If a food was grown in an organic environment, it remains organic when it undergoes the freeze drying process. Meat, desserts, coffee, juices, snacks, and dinner entrees all come in freeze dried forms.
Fruits and Vegetables
Meals and Desserts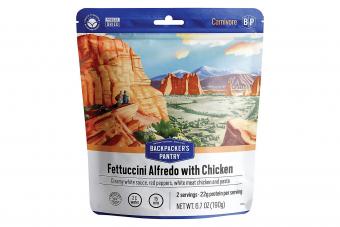 Mary Jane's Farm: Mary Jane's Farm offers a great line of tasty, organic freeze dried meals. Some selections include chili mac, burritos, shepherd's pie, and pasta options. Mary Jane's Farm also offers breakfast and dessert selections.
Backpacker's Pantry: This company uses a combination of organic freeze dried and dehydrated ingredients in their entrees. Their delicious selections include breakfast and dinner entrees in chicken, fish, beef, and vegetarian options as well as desserts.
Beverages
Sambazon Acai Freeze Dried Powder: The small, purple acai berry is earning a reputation as one of nature's super foods and is believed to have strong antioxidant properties. Those properties are harnessed in this organic freeze dried drink mix.
The Benefits of Freeze Dried Foods
Taste: The flavor is tasty and fresh. All vitamins and nutrients remain in the food, just as they are when first grown and picked.
Appearance: The food looks as it does fresh. It maintains its original shape and texture. When water is added to freeze dried items, in a few minutes the food rehydrates back to its natural state.
Volume: Freeze dried food weighs less than fresh food since 98 percent of their water has been removed. Due to this, the food takes up less space to transport and is light to carry. For example, a three pound chicken weighs only one pound after freeze drying.
Ease of Storage: Foods do not need to be chilled or cold, so storing freeze dried fruits and vegetables is inexpensive.
Long shelf life: Freeze dried foods can be stored on shelves at room temperature for many years without losing their nutritional value or taste. The food does not spoil or rot.
Buying Freeze Dried Foods in Bulk
If you use freeze dried foods frequently, you may want to consider buying them in bulk. In addition, emergencies can occur at any time so it's a good idea to have an emergency food supply on hand for you and your family -- buying foods in bulk is a great way to do this.
Many companies offer individual bulk foods or pre-selected varieties for purchase and, although you may put out more money initially, you'll likely save money over the long term. Bulk foods come in a wide range of sizes from a few pounds to 30 pounds and up. Following are a few companies that offer freeze dried foods in bulk:
North Bay Trading Company: This company offers many organic freeze dried fruits and vegetables in bulk. Selections may also be purchased individually.
Wilderness Dining: This popular company offers a huge selection of bulk freeze dried foods including Mary Jane's Farm entrees, and a variety of fruits and vegetables.
Prepare Direct Specialty Products: Organic peas, bananas, pineapples, and blueberries are just some of the freeze dried foods this company provides in bulk.
The Process of Freeze Dried Foods
The history of freeze dried food dates back to the ancient Incas in Peru. Above the heights of the mountains of Machu Picchu, the Incas stored potatoes and other crops. Due to the low air pressure in the high, cold we call the altitudes, the water inside the crops vaporized. The removal of the water content from frozen food is called lyophilization. The dehydration part of the process occurs under a vacuum. Shrinkage is eliminated or minimized, and the result is an almost perfect means of preservation.
Freeze dried food is easy to carry, store, and is tasty. Here are some interesting facts about freeze dried food:
Freeze dried meals and snacks are used in space travel voyages.
In the Vietnam War, soldiers consumed freeze dried foods, valuing the fact that they were lightweight and easy to store.
Since the 1960s, over 400 different types of foods have been commercially produced under this process.
Items like watermelon and lettuce cannot be preserved in this fashion due to their high natural water content.
Keeping Informed
Freeze dried foods are a healthy, convenient alternative to canned and frozen foods, made better when they are organic. You might want to do some research to see which foods are best to buy organic. Almost all foods can have their water removed and undergo the freeze dried method, but if you want solely organic foods, be sure to check certifications on labels to ensure you're purchasing the highest quality product possible.