Finding Organic Baby Toys Made in USA
While you may pay a bit more for organic baby toys made in the United States, you'll also be assured that the toys match the stringent quality standards set by the U.S. government. With scares involving everything from melamine in baby formula to toddlers munching on Chinese-made toys doused in lead paint; it makes sense to seek both organic and American-made toys, especially for babies and toddlers.
US-Made Organic Toys for Babies
For parents concerned about exposing their growing babies to toxic chemicals, organic baby toys provide a smart and comforting alternative to typical toys. Toddlers exploring their environment typically put everything in their mouths, including toys. Knowing that babies and toddlers are chewing and slurping on organic toys brings all the more comfort to families concerned with toxin exposure.
Babies grow rapidly, and benefit from different toys at different stages of development. Infants need toys that are easily grasped, and they enjoy toys such as mobiles, teethers, and rattles. Later, as children learn to sit up, crawl and walk, they want toys with motion, such as cars they can push or pull, blocks to stack, and other fun items.
The following sources offer organic baby toys made in the USA. Most of the toys are made from natural woods, with plain oil finished, non-toxic wax finishes, or simple paints. Cloth items are made from organic fibers and materials.
Green Toys
Green Toys is passionate about making toys that are safe for babies and the environment. All toys are completely non-toxic and made from recycled milk cartons. Their toys are locally made in California from start to finish -- from recycling the milk cartons to production and assembly -- in order to avoid wasting unnecessary energy on travel.
Their unique baby toy line includes teething keys, stacking cups, blocks, and a shape sorter and comes in 100% recyclable packaging. The price range for baby toys is $10.99 and up.
Our Green House
Our Green House features toys from birth to childhood, all organic and made in the USA. From organic textile doll slings for little girls to blocks, push car toys, and more, your baby will enjoy plenty of hours of playtime with these cozy, imaginative favorites. The company also offers organic personal care products and clothes for baby.
Prices range from $12.00 to $135.00 and products are sometimes offered on sale. In addition, shipping is free for orders of $150.00 and up.
Soft Organic Plush Toys
Babies and toddlers spend much of their time snuggled close to a favorite stuffed animal or doll, so it's important those products are made from organic fabric and stuffing that are free of toxins or pesticides. The following companies offer sweet, organic plush toys perfect for babies who love to cuddle.
Pure Play Kids
Pure Play Kids features cute, simply-made handmade baby dolls in their line of plush toys made from organic fabrics. Each toy has hand-stitched details and costs $24.99.
Baby Earth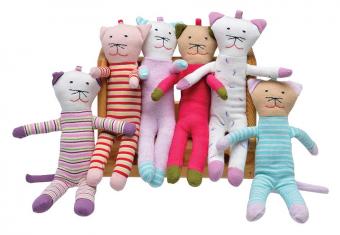 For an array of organic, eco-friendly plush toys, try Baby Earth. They offer an affordable line of toys made from organic cotton, natural wood, and food based paints. Most of their organic options include plushes that feature animals, dolls, and foods. Prices start at $7.95 and shipping is free for orders $99.00 and up.
Label Lingo
It's important to understand what toy labels mean. Terms such as "Made in the USA" and "organic" are bandied about with such frequency that it's easy to lose sight of the importance of them.
The Made in the USA Label
Starting in the early 20th century, certain products imported into the United States were required to bear a label stating the country of origin. This continues today. The Federal Trade Commission requires that at least 75 percent of the total manufacturing costs of the product come from United States materials, and the product was last "substantially transformed" in the United States in order to bear the "Made in the USA" label.
Toy manufacturing is big business, and most of the world's toys are made in China and other Asian markets. While most toy manufacturers comply with ASTM safety standards and rate toys according to age, the inspection process in other countries differ from the United States and many substandard or even dangerous toys slip through the cracks every year. Many parents turn to toys with the Made in the USA label for assurance that the toys meet American quality and manufacturing standards.
Organic Toys
While some companies may define organic toys differently, the accepted definition includes toys made from wood or natural fibers, with non-toxic stuffing and painted decorations. Many organic toys are glazed in simple vegetable oils, oil-based paints, or milk-based paints.
Buy Organic Toys for Safety
Many babies are already exposed to a wide range of potentially dangerous chemicals and contaminants in baby care products, foods, and pollution, so the last place you want to find even more toxins is in their toys. By purchasing organic toys for your baby, you're reducing his/her risk of exposure, helping your baby stay as healthy as possible.
Whether you're buying toys for a little boy or a little girl, you're sure to find the perfect plaything from among the many American-made organic toys available.