All Natural and Organic Holiday Beauty Recipes
When looking for homemade gift ideas with a broad appeal, think about preparing all natural and organic holiday beauty recipes for the lucky people on your list.
Making Natural Beauty Products for Gift Giving
Preparing all natural and organic holiday beauty recipes is a terrific way to bring smiles to the faces of your friends, family members, and co-workers this holiday season. Creating handmade items is an excellent way to add a special, personal touch to holiday gifts. Many people give homemade food during the holiday season. You can distinguish yourself by giving a different kind of consumable holiday treat when you try your hand at beauty recipes for gift giving.
Get Started With Kits and Recipes
You can make your own holiday skin care goodies from recipes or with kits designed especially for crafting natural soaps and other organic beauty aids. Organic Creations, Inc. is a popular online resource for complete soap making kits and the individual supplies needed to craft skin care products from scratch.
Community and Online Classes
If you would rather take a class instead of trying your luck with a recipe or kit, there are certainly opportunities to do so. Many colleges and universities offer non-credit continuing education courses on these types of subjects. It is also possible that a hobby or natural products store in your area might offer soap and beauty product making classes. Other possible local training resources include public libraries, community centers, art studios, and art supply retailers.
Even if you can't find a live class in your community, you can take an online class.
Resources for Recipes
Anne-Marie Faiola shares a number of terrific organic and all natural and organic holiday beauty recipes on TeachSoap.com and the Soap Queen blog.
The simple beauty product recipes for beginners on Faiola's websites include:
Bath Jelly
Brown Sugar and Lemon Scrub
Chocolate Lip Gloss
Clay Mask
Floating Bath Soak
Ginger and Cinnamon Salt Body Scrub
Grape Seed Scrub
Honey Bee Soap
Lip Balm with Lanolin
Lotion Bars
Oatmeal and Brown Sugar Scrub (also known as Breakfast for Your Skin)
Oatmeal Melt and Pour Soap
Secret Garden Bath Tea
Shaving Soap
Shea Butter Soap
Sheer Lipstick
Sugar, Salt, and Nut Scrub
You can also find an extensive selection of recipes in the recipe section of Cranberry Lane's website. Selections include:
Aloe Vera Body Lotion
Basic and advanced soap making techniques
Body Wash
Facial cleansers, creams, lotions, moisturizers, and toners
Lip Balm
Mouthwash
Natural Foundation
Natural Lip Color
Sea Mud Body Mask
Toothpaste
Tub Tea
Other resources for natural and organic skin care product recipes include:
Ingredients for Natural and Organic Holiday Beauty Recipes
Crafting your own all natural beauty products is easier than you think, even if you have no experience at all. With a few simple ingredients, a good recipe, and a little bit of effort, you can easily make your own body scrubs, lotions, soaps, lip balms, and more.There are many different ways to create your own organic skin care products. You can find the materials needed for making natural beauty aids at supermarkets, health food stores, craft stores, or from online specialty retailers. Depending on what type of items you plan to create, some of the ingredients, equipment, and supplies you need might include:
Ingredients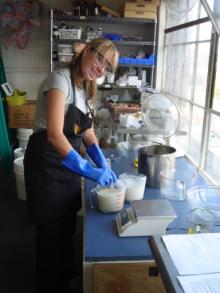 Anne Marie Faiola of Organic Fusion making beauty products
Botanicals (dried flowers)
Clay
Glycerin
Herbs
Minerals (various)
Natural colorant
Oils
Spices
Waxes
Equipment/Supplies
Containers (bottles, bags, spray pumps, etc.)
Molds
Scale
Thermometer
Where to Find Supplies and Equipment
Books About Making Natural and Organic Beauty Products
The following books are rich sources of additional information about making your own skin care products:
The Perfect Gift
The hand crafted natural beauty product gifts you give this year are sure to be a hit with everyone who is fortunate enough to receive them. They'll be impressed by your ingenuity and thrilled to receive such a practical, health-conscious, and environmentally responsible holiday present.